THE TEACHER
Instructor's Profile: Maiko Takemoto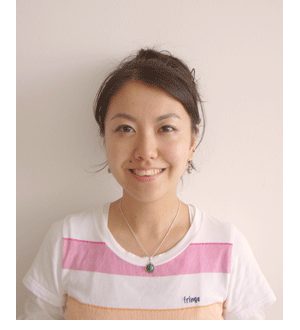 Now a certified Mitzvah instructor, Maiko started learning classical ballet in early childhood. She continued to dance for almost 20 years, eventually branching out into jazz, contemporary and modern.
However, a few years after entering the art program at Tokyo Gakugei University, she severely injured her lower back and was unable to walk, let alone dance.
In the beginning, she received conventional medical treatment for her injury. This seemed to help at first, but she sustained another back injury during a physiotherapy treatment in a hospital. When the doctor informed her that her spine would never fully recover, she realized that she needed to find a healing technique better suited to her needs.
Maiko soon discovered the Mitzvah Technique. She took one lesson in Tokyo and was so impressed, she signed up for a 3-week intensive course in Toronto, Canada. This brought her a dramatic recovery.
After graduating university in 2006, Maiko went to Toronto again to become a pupil of Toshie Okabe, one of the leading Mitzvah teachers in the world. During her time in Toronto, she also studied under Mitzvah-founder Nehemia Cohen. Maiko completed the Mitzvah teacher training course and returned to Japan in 2009 as a certified Mitzvah instructor
She opened Figure Eight Studio in 2010 and is currently engaged in various efforts to spread the Mitzvah Technique.
Maiko no longer wants to be a professional dancer, realizing that her true calling is to be a healer, but now dances for fun on a regular basis (thanks to Mitzvah!). She hopes to broaden her knowledge of Mitzvah by studying related healing techniques like Feldenkrais, and the Alexander Technique.
In this digital age, surrounded by endless streams of information and news about terrible events happening everywhere, many of us feel confused and lost, and wonder what we might do to change the situation.
I believe that the first thing we all must do is to reflect on ourselves and seek personal change. This doesn't mean being selfish. Rather, it means giving ourselves the care that we need, deep inside.
As you read this, do feel any pain or tension anywhere? Our bodies have many lessons to teach us. brimming as they are with immeasurable hidden potential. If every individual paid attention and listened to the voice of their body, people might truly take responsibility for themselves and work to undo the tight knot of problems tangled all around the earth.
I would be very happy if the Mitzvah Technique could serve as one method to help us come face to face with ourselves and find the personal change that this information-saturated world so desperately needs.